We have created this website in English for all those of you who enjoy Bordeaux wine and who are looking for the ideal place to get away from it all. Our aim is to give you a clear picture of all that you can discover and experience with us here at Château Bardins.
Why not come for a visit to the wine estate and join one of our wine tasting workshops?
Just 15 minutes from the centre of Bordeaux, we are located in the AOC Pessac-Léognan, a wine growing region famous for its Graves Classified Growths.
Bordeaux is the heart of France's southwest region of Nouvelle Aquitaine and has always been a popular destination for the British. This is hardly surprising given your strong historical ties to the area which, after all, was once your own! When Henry Plantagenet married Eleanor of Aquitaine in 1152, he gained control of Aquitaine. The riches of the markets and vineyards in these regions, combined with Henry's already plentiful holdings, made him the most powerful vassal in France. A few years later Henry went on to become King of England and Aquitaine came under English rule. Indeed it remained so up until 1453 when the Battle of Castillon marked the end of the Hundred Years' War.
Many chateaux in Bordeaux still bear witness to this strong link between England and France; Château Smith Haut-Lafitte, Château Brown, Château Kirwan …This proves that the love of good wine knows no borders! So, whether you are a newbie to the wine scene or already a connoisseur, you will be very welcome at Château Bardins where you can discover our estate, and of course our selection of fine wines!
A friendly and professional approach is what guides us here at Château Bardins
We offer several different activities all revolving around wine of course!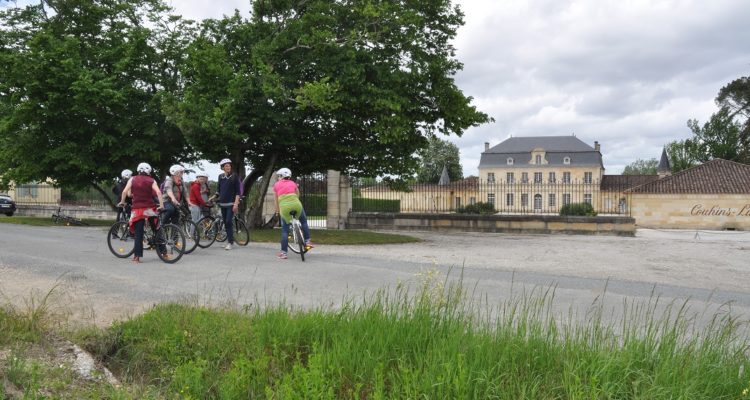 During the visits, oenology workshops and cycling tours you are in the hands of professionals who will talk you through the experience and answer all your questions.
Come and take part in a 2 hour discovery workshop designed to introduce you to the wine tasting experience. Or perhaps you would prefer to build on the knowledge you already have by joining a workshop which focuses on blending. This activity will allow you to gain an insight into how a fine Bordeaux wine is crafted. You will first taste wines produced from a single grape variety (Merlot, Cabernet Sauvignon, Sauvignon Blanc, Sémillon) then move on to the blending using larger or smaller proportions of each variety. It really is incredible to be able to appreciate how much roundness the Merlot grape brings to the bold Cabernet Sauvignon!
We also organise aperitif tasting workshops.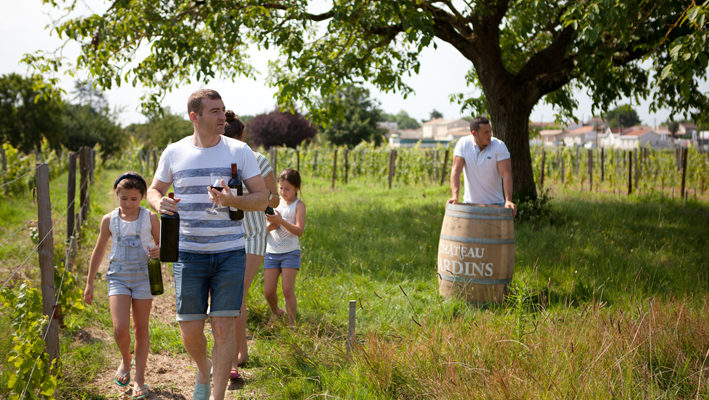 The barrel fermented Pessac-Léognan white wines go beautifully with Périgord semi cooked foie gras. Traditionally it is paired with Sauternes but in our workshop you can try it with a dry white and a sweet well-rounded wine and decide which you prefer. You may also be tempted by our platters of AOC cheeses served with red wines but also with whites!
Don't hesitate to pay us a visit in this beautiful sub region of Graves! We are just south of Bordeaux, on the left bank of the Garonne river. If you don't have a car just take the local bus from the city centre. You will also find there is a host of things for you to see and do all around Château Bardins, a wide choice of accommodation and good restaurants.
We look forward to seeing you!