At Chateau Bardins, we mainly produce red wine but we are also delighted to offer a selection of white wine too.
Red wine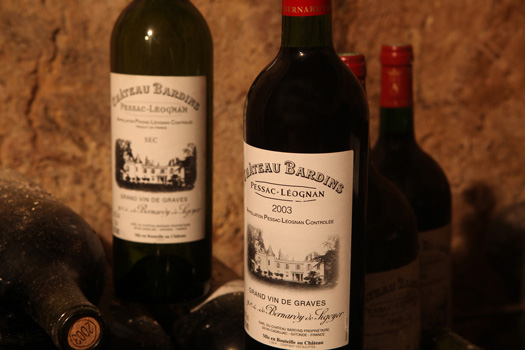 The award-winning red wines from Château Bardins are aromatic, velvety, well-bodied and have a good length on the palate. Sold « ready to drink », they will also keep for 10 to 15 years in the cellar.
Château Bardins Red 2016 vintage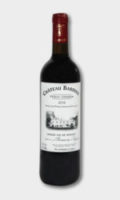 Voted favorite by "Le Point "magazine
Rated 15.5+ /20 by Jancis Robinson
Deep crimson in colour. Nose of red fruits, lively, dense, woody and harmonious. Beautiful volume on the palate, fine elegant tannins, still waiting to blend. Very good ageing potential.
64% Merlot, 20 % Cabernet Sauvignon and 16 % Cabernet Franc.
Château Bardins Red 2014 vintage
Gold medal – Gilbert & Gaillard 2017
Gold medal – Féminalise World Wine Competition 2017
« Darkly coloured with youthful highlights. Nose of ripe red and black fruits with floral presence and subtle oak. Fleshy, concentrated palate with a tannin influence that does not undermine balance or fruit presence. A distinctive Pessac with youthful qualities ».
50% Merlot, 25 % Cabernet Sauvignon and 25 % Cabernet Franc.
« Les Helloties » Special vintage – Red 2015
Rated 92/100 by « Wine Enthusiast » magazine
A premium vintage made using a selection of grapes from the vineyard's top quality plots:
70% Cabernet Franc, 20% Cabernet Sauvignon and 10% Merlot.
The well-ripened Cabernet Franc brings notes of red fruits (raspberry, blackcurrant and violets). Ageing in new oak barrels lends sweetness, a roundness and additional tannins. It pairs very well with roast beef and mushrooms.
This cuvée confidentielle is crafted every 10 years, on the occasion of particularly outstanding harvests.
2,142 (75 cl) bottles of this wine have been produced to date.
White wine
Château Bardins dry white wines are appreciated for their freshness, roundness and finesse. They are a blend of 3 grape varieties: Sauvignon, Sémillon and Muscadelle.
Château Bardins White 2017
With floral, pear and exotic fruit notes on the nose. Soft and creamy in the mouth.
Good aromatic length on the palate.
Gift box « The wine tasting game »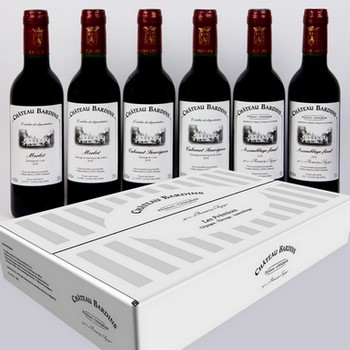 What is the difference between wine aged in barrels and wine aged in vats? What does a Merlot or a Cabernet Sauvignon taste like on their own? Learn to recognize the grape varieties, detect the qualities of ageing and the subtle art of blending!
The box contains 6 half-bottles (37.5cl) of Château Bardins. 1 bottle of Merlot and 1 bottle of Cabernet Sauvignon aged in vats, 1 bottle of Merlot and 1 bottle of Cabernet sauvignon aged in barrels and 2 bottles of the final blend (50% Merlot, 50% Cabernet Sauvignon).
A fascinating tasting experience to be shared with both family and friends!