Although they represent only a small area of the Bordeaux wine growing region, the crus classés "classified growths" enjoy a worldwide reputation for their quality. At Château Bardins, the list of the different AOCs "protected designations of origin" serves as an introduction to the visit and to the tasting workshops. It sparks the curiosity of wine lovers who are keen to find out more about the classification of Bordeaux wines, the well-known premiers grands crus classés and inevitably how the price of a wine relates to its particular characteristics.
So, let's discover each of the classification systems in turn.
Bordeaux wine classifications
The classified growths of 1855
This official classification of wines dates back to the Universal Exhibition which opened in Paris in 1855. Napoléon III requested that each wine growing region establish a classification of its finest wines. The Bordeaux Chamber of Commerce and Industry, which had been created a few decades earlier, took the task in hand for the region, ranking its wines in terms of "growths" according to the chateau's reputation, the sensory qualities and trading price of its wine.
This classification is exclusive to red wines from the Médoc, sweet white wines from Sauternes & Barsac and one exceptional red wine from Graves: the legendary Château Haut-Brion, an estate which today finds itself located in the Pessac-Léognan AOC. A total of 60 chateaux are included in the 1855 Bordeaux Classification for producers of red wine. This breaks down to 5 First Growths, (Château Margaux, Château Latour, Château Lafitte Rothschild, Château Mouton Rothschild figure alongside Château Haut-Brion), 14 Second Growths, 14 Third Growths, 10 Fourth Growths and 18 Fifth Growth wines. The chateaux are magnificent and extremely well run with wine cellars designed to produce only the finest wines. 27 chateaux share the classification of sweet dessert wines; all benefit from a climate which is ideal for the development of noble rot but Château Yquem is the only estate to produce a First Growth.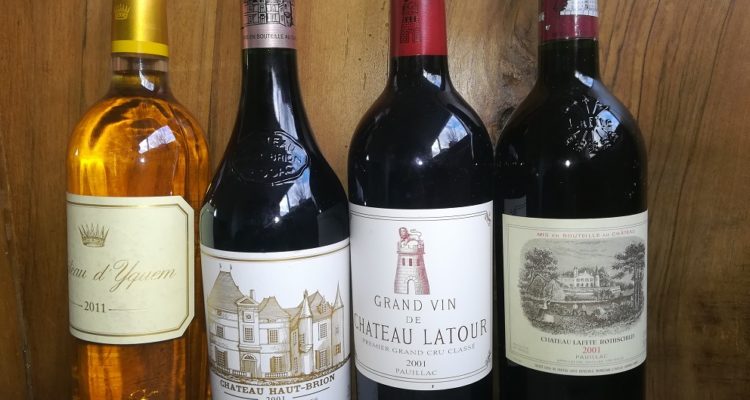 The Graves classification
This classification is more recent dating back to 1953. It was established by the National Institute for Appellations of Origin (INAO) at the request of the "Syndicat de défense de l'appellation des Graves" winegrowers union and is not subject to revision. It ranks 16 chateaux by municipality and type of wine; red wine, dry white wine or both. Graves wineries are not ranked as First Growth, Second Growth, and so on. They are simply entitled to use the term "Grand Cru Classé de Graves".
The Saint-Emilion classification
Dating back to 1954, a decree states that the INAO must update this classification every ten years. The most recent update was in 2012. There are currently 82 classified estates. The classification has two principal tiers: Grands Crus Classés Great Growths and the higher level Premiers Grands Crus Classés First Great Growths. The latter is further subdivided into categories A and B. There are 64 Great Growths and 18 First Great Growths of which 4 are ranked category A. Until recently, there had only ever been two estates to bear the highest category A distinction (Château Ausone and Château Cheval Blanc) but they were joined by Château Pavie and Château Angelus after their promotion in 2012 from First Great Growth B to First Great Growth A.
An elite and its club
The 9 historic First Great Growths, Châteaux Yquem, Latour, Lafitte Rothschild, Mouton Rothschild, Margaux, Haut-Brion, Pétrus, Ausone and Cheval Blanc meet up together monthly in the company of scientists and experts to discuss technical aspects, their field experience, and trade policy. They also jointly finance research as part of an ongoing drive for improvement and a desire to perpetually inspire us with their truly outstanding wines.
Related post :
Wine tasting workshops at Bordeaux